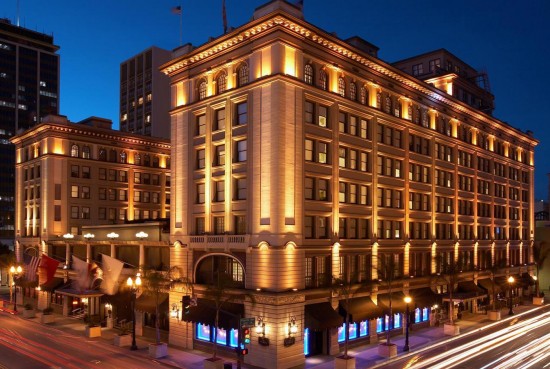 I stayed at the US Grant Hotel while visiting San Diego for work recently. I am not usually blown away by hotels, but this one really surprised me. I was a late register for a conference and the block of rooms at our conference hotel down the street had sold out. I chose this one because it had a good location for my conference and I was actually able to secure a rate even lower than the block rate at the other hotel! Excellent decision.
The Grant is over 100 years old and was built by the son of President Ulysses S. Grant. It is now run by Starwood Hotels as part of their Luxury Collection. Up until this point, I had never cared too much for the other Starwood properties I had stayed at, but I will definitely be looking into other Luxury Collection properties in the future.
This is the stunning lobby that greets you as you walk in. Definitely helps you start your stay the right way. Check-in was quick and easy and I was in my room in no time…
…which was incredible. Never have I seen such a natural pairing of classic and modern design. The drip-painted headboards are works of art created by Yves Clement specifically for the Grant. The abstract headboard completely dominates the classic paneled wall in such an interesting way. Usually when I travel, my room is just a place to store my belongings and sleep- a glorified locker. Not the case this week. I enjoyed lingering in bed in the mornings and relaxing there after work/before I had to rush out to dinner every night.
While researching the Grant online, I found this stunning photo of a ballroom set up for a wedding. Does that not look like a fairytale?
In addition to the wonderful accommodations, the Grant Grill was lovely too. We ate there and had cocktails at the bar several times. I highly recommend it. Directly across the street, there is a restaurant called Spike Africa's, which is great if you want something more casual (get the mahi tacos). Further into the Gaslamp Quarter, hit up the Hopping Pig and the Tipsy Crow for great craft beer- a lot of local brews. The Tipsy Crow features the "drink exchange," a customer-driven happy hour that changes the prices of drinks based on what is being ordered. Pretty cool!
All in all, I was very pleased with this trip to Southern California and am completely smitten with the US Grant. I highly recommend you consider it for your next trip to San Diego.