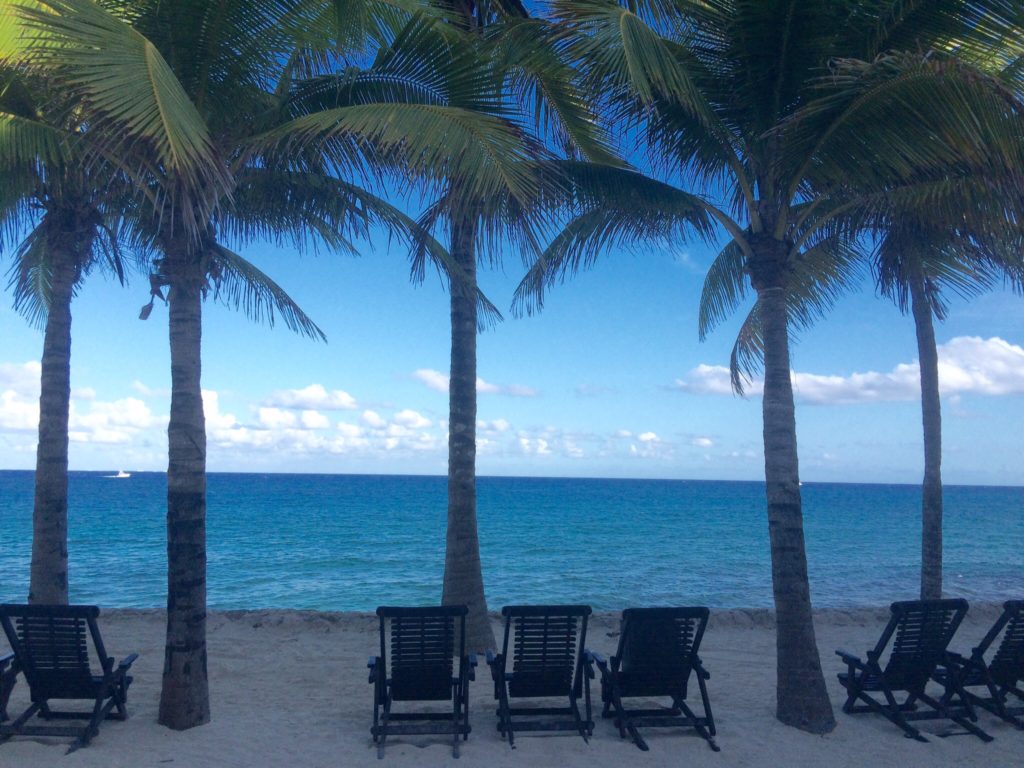 While in Mexico last month, we stayed at the Occidental Grand Xcaret in Riviera Maya. It was a great trip from start to finish, thanks to Costco Travel. This was the second all-inclusive getaway we have booked through Costco, and they make everything smooth and easy. We chose to do airfare, ground transportation, and the resort itself as a package deal and got a fantastic deal. We also added a weeklong pass to the Xcaret Eco Park. For my other all-inclusive trip booked through Costco, we even booked excursions through them.
We flew into the Cancun airport and the ground transportation was ready outside and only waited a few moments before departing with four others in the (air conditioned!) van. It was a 30 minute ride to the resort. Upon arriving at the resort, we were told that our rooms were not ready yet, but they would prepare them while we ate and explored. They instructed us to leave our luggage sitting outdoors at the taxi/bellhop stand right next to the driveway. That made me uneasy, but I didn't want to pull it all over the resort with me, so I just went with it.
The lobby/main area is MASSIVE and open air. It's a really neat area. There is a river that runs through the middle of it and shops scattered around the perimeter. In the evenings, artisans set up and sell their handmade jewelry and art. We bought a beautiful painting the last night of the trip.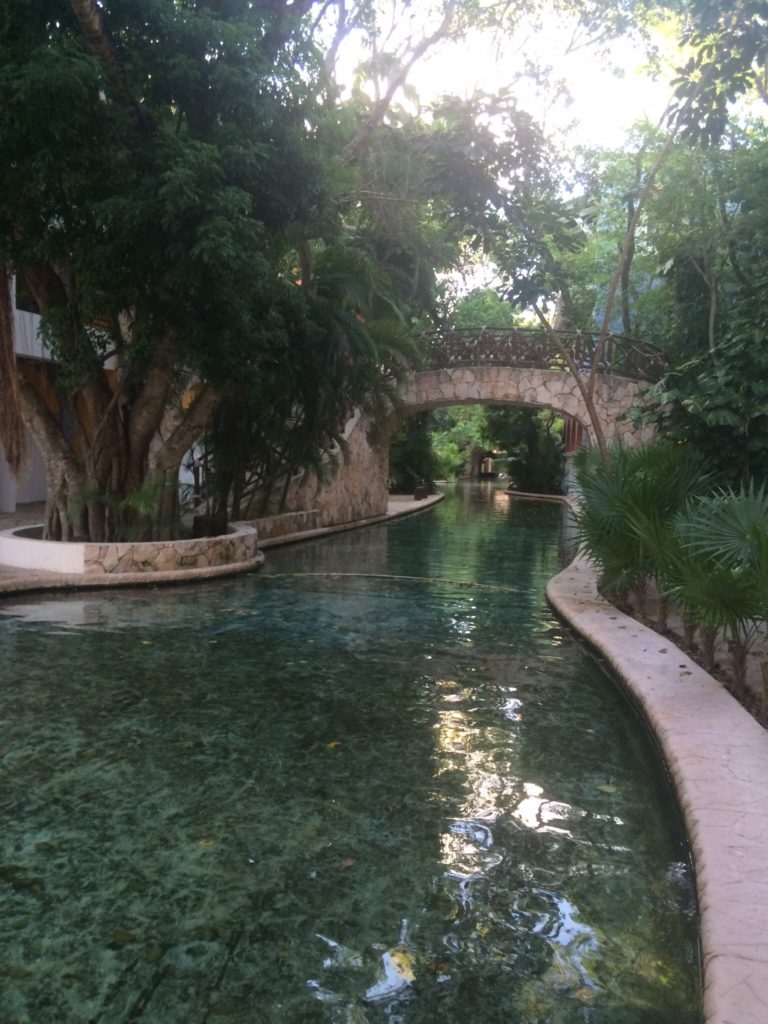 Dining and Drinking
There are 11 restaurants and bars onsite, so you have plenty of different options to choose from! Le Buffet is open for breakfast, lunch, and dinner and serves a huge variety of foods. It is also a very large restaurant, so if you are part of a large group, this is a safe bet for being seated quickly.
Beach Club is the other buffet. They serve breakfast and lunch in a large, open-air building. For dinner, the space is turned into El Pescador, a nicer seafood restaurant.
There are four specialty restaurants: Los Olivos, an Italian restaurant, La Hacienda, a Mexican restaurant, D'Oriental, an Asian and sushi restaurant, and Sonora Grill, a steakhouse. All of the specialty restaurants are only open for dinner and are quite small, so reservations are helpful. Sonora Grill, Los Olivos, and and La Hacienda all have appetizer buffets, which are great.
We visited Sonora Grill once and it was good. The steak was not of the highest quality, which is somewhat to be expected at an all-inclusive resort, but it was good. The appetizer buffet had a wide variety of options.
We visited Los Olivos twice. The first night we went, we were all smitten. The appetizer buffet was on point, the dinner was great, the wine was good, it was all aces. The second time we went back, the appetizers were all different on the buffet and not as good, but the dinner was still quite good.
D'Oriental was not good. They had soup and sushi appetizers and I ordered teppanyaki for my entree. Normally a safe choice, but theirs was bland and disappointing.
Last is La Hacienda. We went there twice as well. It was very good. The appetizer buffet was delicious and they also had a dessert buffet. The churros were to die for!
In addition to the above restaurants, there are two dinner and late night options: Paco's Tacos and La Piazza– tacos and pizza. They are both quick and delicious and open until 2am.
There is also a bar in the lobby, a swim-up bar at the main pool, a bar with swings by a second pool, a beach bar, a sports bar, and a nightclub.
Resort Property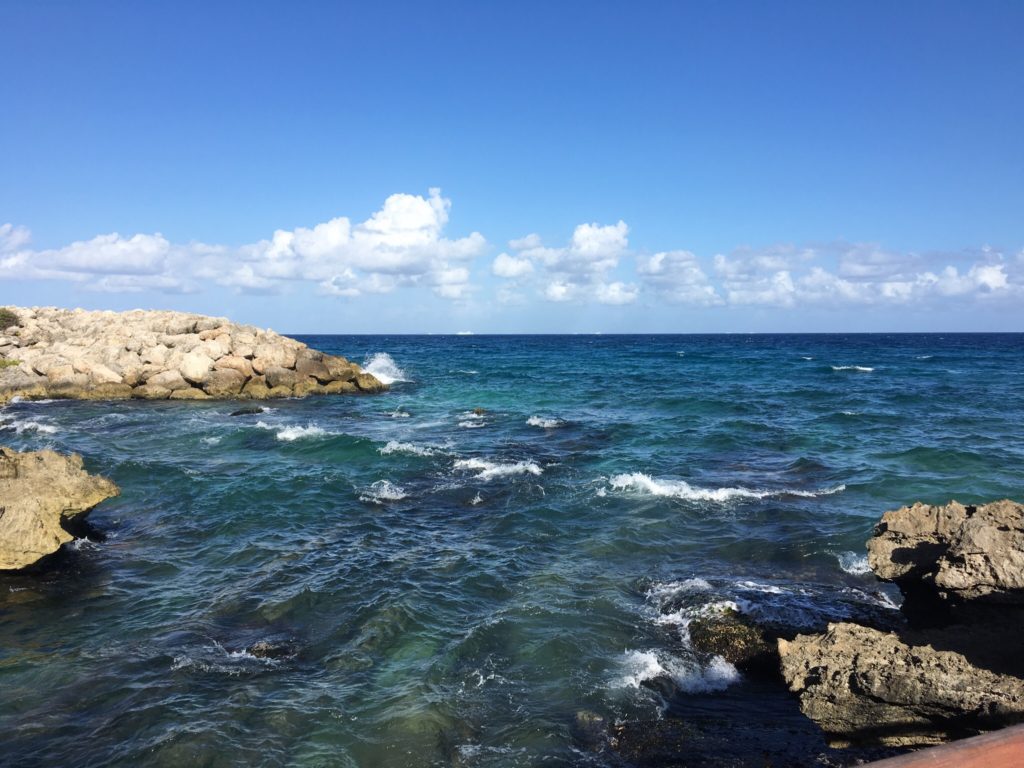 The resort is not situated on a beach. There are rocky cliffs at the edge of the ocean- no sand. There is a manmade beach a little further back for resort guests, but don't expect to be frolicking in the surf here.
They make up for the lack of beach with a lot of pools. There is a huge pool that is more like the "party pool." There is a swim-up bar and an area for foam parties and there is always loud pop music playing.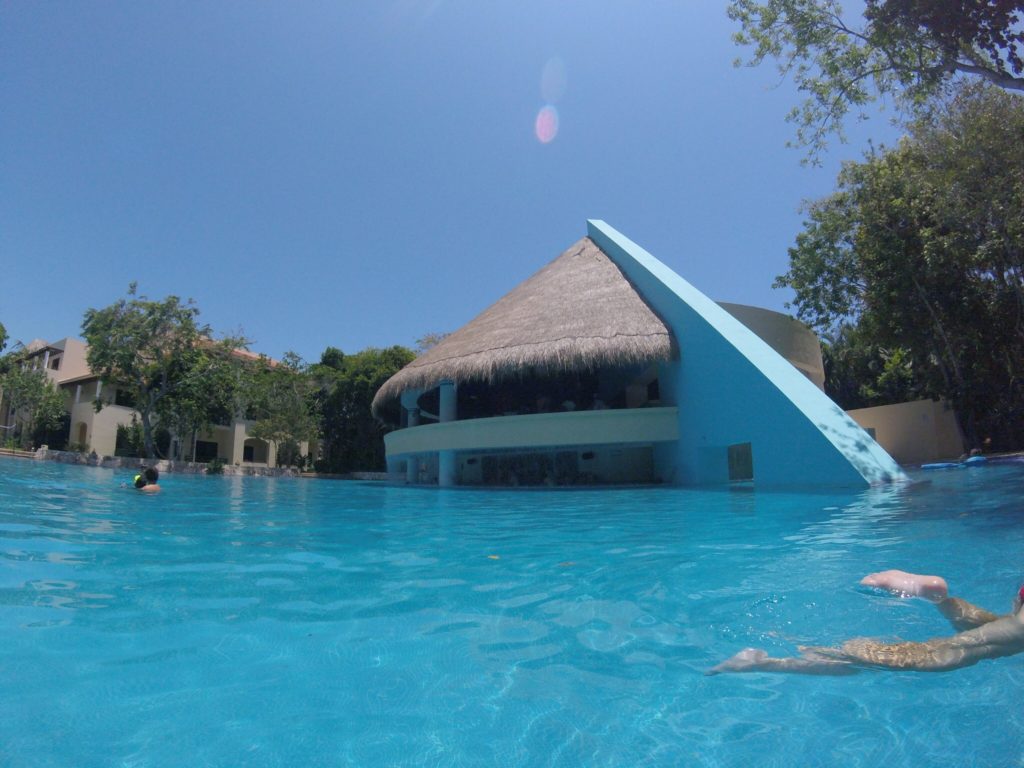 There is a second pool that was described to us as the "quiet pool." There is no music, no craziness, just cabanas and swings, as well as an area for massages. There was a bar at that pool as well.
The resort property is adjacent to the Xcaret Eco Park and the resort relies on Xcaret for most of the entertainment (or so it would seem). There weren't a lot of shows or other entertainment on the Occidental property.
The room
The room was very unimpressive. So much so, that I didn't take a photo of it, and I always take photos of my room. I've taken photos of Hampton Inns before, and it didn't occur to me to take a photo of this one. That's bad. It was sparsely decorated with a bed, two nightstands, a TV stand and a desk. No chair, no couch, nothing. There were a couple of cheap plastic lawn chairs on the balcony. And that is all.
The bathroom was nice enough, with a long counter and a glass shower.
The real problem was, the room was only serviced maybe once the whole time we were there. I snagged some towels off a housekeeping cart one day. Keep in mind I was out of my room by 8-9am every day and never put the do not disturb sign out. Disappointing.
I got to spend a week with my brother and sister-in-law, who I rarely see, so even with the few minor issues, it was well worth it to get to spend time with them. We went on some neat excursions as well, which I will cover in separate posts.