I spent part of Labor Day weekend in Roanoke, VA with my best friends and had an absolute blast. My main interests when visiting a new city are finding cool restaurants and local breweries. I love craft beer. Roanoke did not disappoint in that area!
We arrived Friday evening and had dinner at a new Mexican restaurant, Cabo Fish Taco. There are three locations: Charlotte, NC, Blacksburg, VA, and Roanoke. I had the Sweet Blackened Tuna salad and a jalapeno margarita; both were smashing! After dinner, we went to Tuco's for a few drinks. I have eaten at Tuco's before and the food is delicious, but since we had just eaten, we stuck with drinks. I had the opportunity to try the Three Notch'd Watermelon Gose while there- it was very good! I'm a sucker for fun colors and bold packaging, so I loved the can.
We were greeted by torrential downpours on Saturday, so we decided to spend the day indoors at various brewpubs. Our first stop was Ballast Point, the West Coast brewery's first East Coast location. I love sour beers, so I decided to do two flights, so I could sample a few! I had:
The Lone Shark
Sour Wench with Passion Fruit and Guava
Sour Wench with Raspberries
Sour Wench with Apricot and Peach
Sour Wench Boysenberry
Sour Wench with Mango and Guava
Sour Wench Sour Cherry
White Wine Barrel Aged Sour Wench
Bourbon Barrel Aged Brett Raspberry Sour Wench
Moscow Mule
Orange Vanilla Creme Ale
I particularly enjoyed the Moscow Mule beer. It was very interesting and tasted remarkably similar to real Moscow Mule! The rain was not letting up, so we ate lunch there as well. The fried brussels sprouts and chicken caprese sandwich were incredible! I have visited some of the Ballast Point locations in California, and this East Coast facility lived up to my expectations.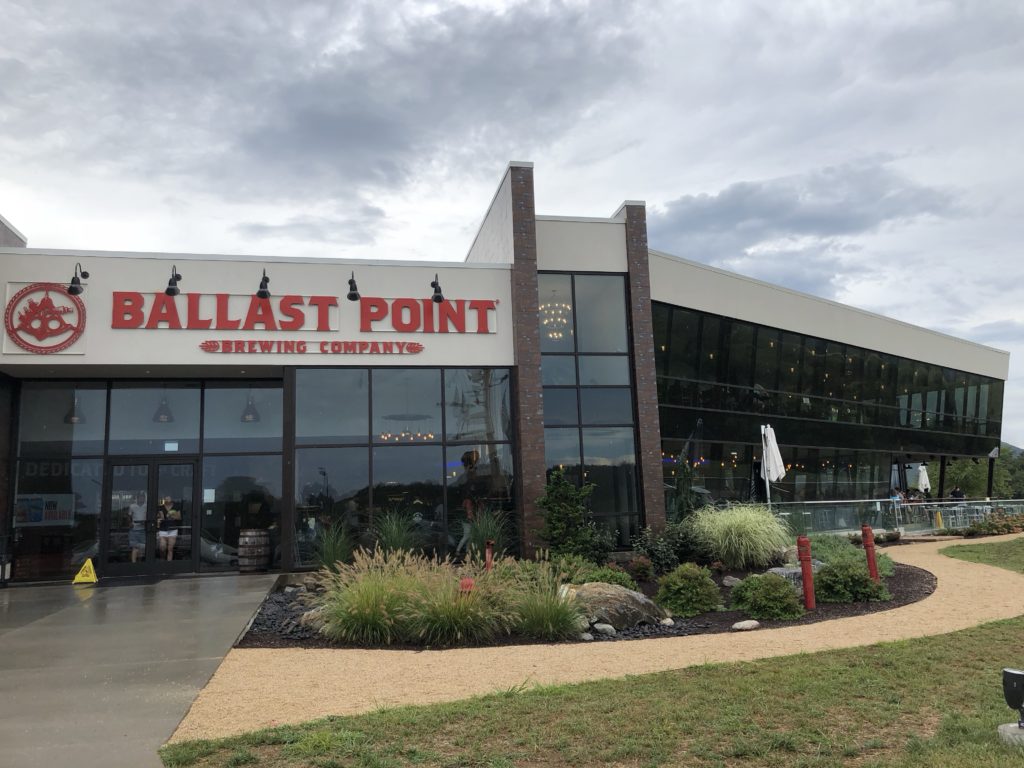 After leaving Ballast Point, we went to the Starr Hill Pilot Brewery. Starr Hill was founded in Charlottesville, VA and this location opened in September 2017. Though smaller than the Charlottesville location, they have an extensive tap list and nice outdoor area.
I did a flight here as well, and sampled:
Naked Berliner Weisse
Raspberry American Sour
Party in the Back (witbier)
Totally Mad Passionfruit Gose
Lust for Life (witbier)
Stone Rose Hibiscus Lager
I typically like Starr Hill beer (they make my all-time favorite Hefeweizen, The Love), but I did not love these samples. However, I may have trashed my palate from too many sours, because I did not love the beers at our next stop either. We went to a local brewery, Big Lick Brewing, where I tried the:
Barbie Juice (blonde ale)
Smartee Gose
The Smartee was decent, but I did not like the Barbie Juice very much. At this point in the day, the rain had stopped and the outdoor temperature was perfect. We spent some time outside on the patio and admired this gorgeous mural.
After Big Lick, we walked down the street to dinner. My last flight of the evening consisted of:
D9 Brewing- Systema Naturae 8th Edition- Jaboticaba and Honeysuckle
Two Roads Brewing- Persian Lime Gose
Paradox Beer Company- No. 53 Komet Sitra
Parkway Brewing- Mama Tired
One final beer, Brewer's Day Off by D9 Brewing, rounded off the evening. D9 is definitely on my to-visit list! They have an incredible assortment of sour beers.
The next day, we ate brunch and hit the road to come home so I could prepare for my next trip (new post coming soon)! Roanoke was a wonderful city to visit and I look forward to visiting again.